HAVE YOU EVER LOST A CLUB? FINALLY A GOLF BAG THAT CARES MORE ABOUT YOUR CLUBS THAN YOU!
No more club chatter, No more club clutter
And NEVR LOOZ a club again
Get The PRO CLIP Golf Bag
Welcome To Perfection
Introducing the PRO CLIP Golf Bag
THE FIRST REAL INNOVATION IN A GOLF BAG IN DECADES
Secure, Protect, and Organize Your Game with our Patented Iron Clips that can be swapped out with any number of Hybrid Clips
Designed for the golfer who wants to experience the perfect blend of luxury, technology, and tradition. And never lose a club again!
Organize Your Game And Change The Way You Play
VISUALIZE

Our patented iron clips fit any iron on the market. The clips come preset but can be adjusted to slide and rotate. All of our clips are guaranteed for life and replacements or extras are FREE!

ORGANIZE

Insert your woods and hybrids in our patented shaft clips. Swap out as many iron clips necessary with the shaft clips for extra hybrids. We include two extra shaft clips!

PROTECT

Our rubber handle guide separates each individual shaft right down to the grip. And fits jumbo and oversize grips!
Go Joel
NL is proud to partner with professional Joel Thelen.

He checks all the boxes and then some.

Look out Korn Ferry Tour, the real JT is in the house!
Whether you have one extra hybrid or many, our individual Iron Clips and Shaft/Hybrid Clips can be swapped to custom fit your set (we include two extra shaft/hybrid clips) - Fits any iron up to 1/2" over standard length - Fits single-length clubs and over standard length with modification - Keep your clubs separated - Fits Jumbo Grips and Oversize putter grips
BEFORE

Club Chatter
Club Clutter
Clubs Hard To Pull Out
Lost Clubs

AFTER

Club Chatter - Gone!
Club Clutter - Gone!
Super Easy Club Access
NEVR LOOZ a Club Again!
Unique Features
FULL-LENGTH RAIN HOOD

Includes a double zipper to create any size opening, an elastic strap with a clip to secure the bottom and a cord to tie and fasten the top.

PATENTED NO-TWIST BOTTOM

Our personal pet peeve - solved! Your bag will never twist again with our patented uniquely designed bottom cap with our awesome NL logo.

FLIP-UP QUICK ACCESS POCKET

Magnetic FLIP-UP pocket stores tees, pencils, divot repair, and even a business card (not shown) for that one time you need a tee asap!

NO BAG SQUEEZE

We purposely designed an opening on the side for the cart strap to prevent club or bag squeeze. Note: cart guys want to put the strap around the outside of the bag...nooo!
Get Your Game In Style
Wearing red today? Want to match your favorite team colors?
One of the other unique features of the PRO CLIP bag is the outer material cover or "ExoSkin" is designed as a separate cover that wraps around our patented SIDE-OPEN internal frame and can be swapped out in seconds.
Order one or more of our PRO CLIP ExoSkins or our "Specialty" Exoskins for a whole new look and get your game in style!
Get Your Specialty ExoSkin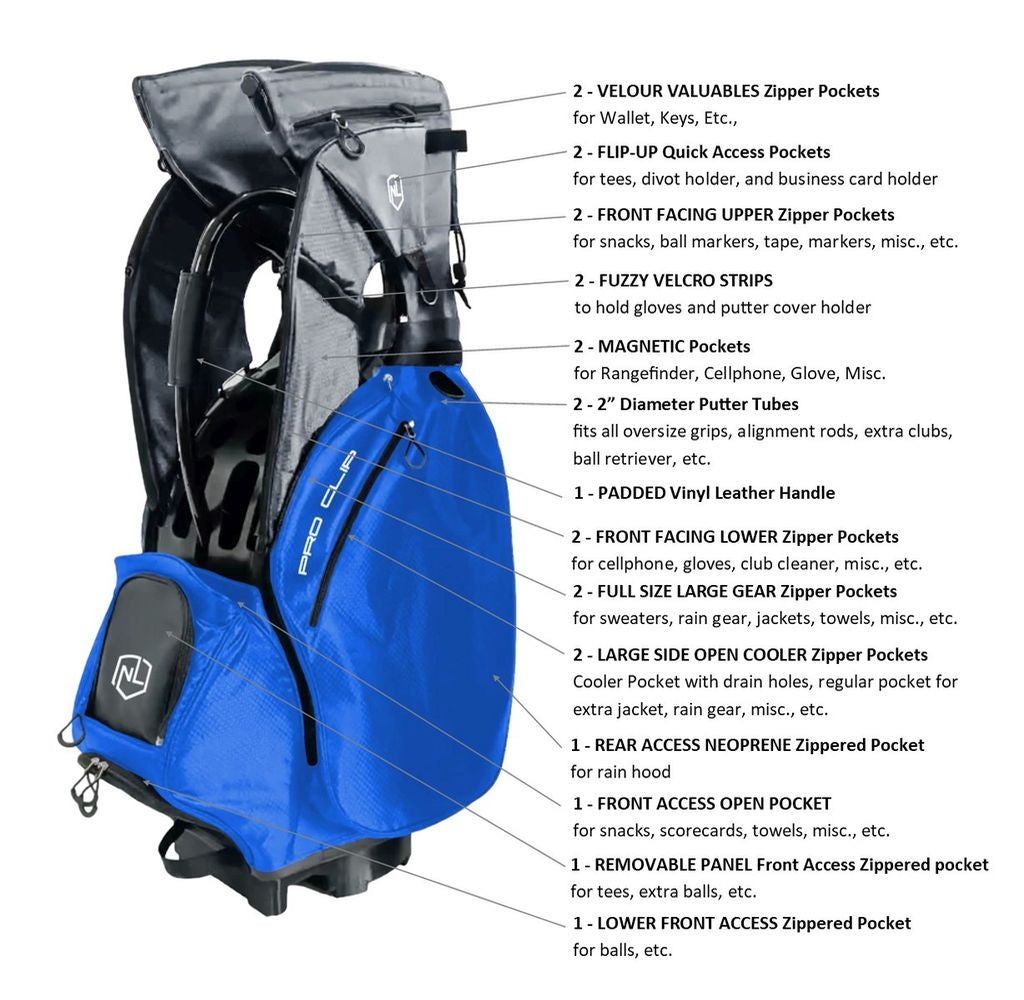 Give Your Gear Some Love Too!
You didn't think we would stop after designing the best golf bag on the planet did you?

Including:
RANGE FINDER, CELLPHONE, BUSINESS CARD HOLDER, DIVOT REPAIR, MARKER, COOLER, VALUABLES, QUICK ACCESS FLIP-UP, REMOVABLE FRONT POCKET FOR EMBROIDERY, RAIN HOOD, AND MORE!
PRO CLIP - Cart Bag
(Clips come attached and are preset) Note: All orders will be shipped around mid-September.
Regular price
$324.99 USD
Regular price
Sale price
$324.99 USD
Unit price
per
Sale
Sold out
Share
View full details
PRO CLIP - Lime (Previous Model Close Out)
Regular price
$274.99 USD
Regular price
Sale price
$274.99 USD
Unit price
per
Sale
Sold out
Share
View full details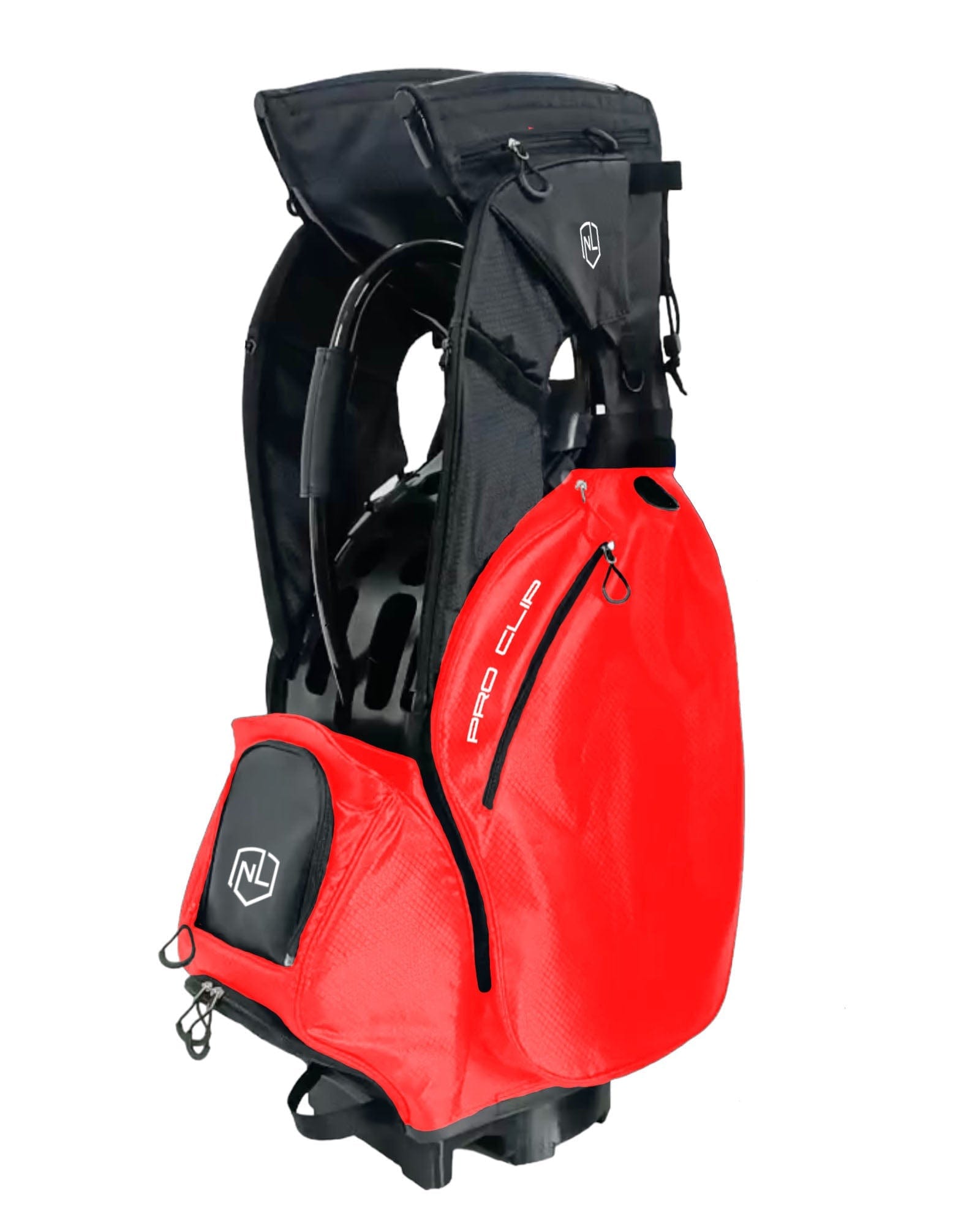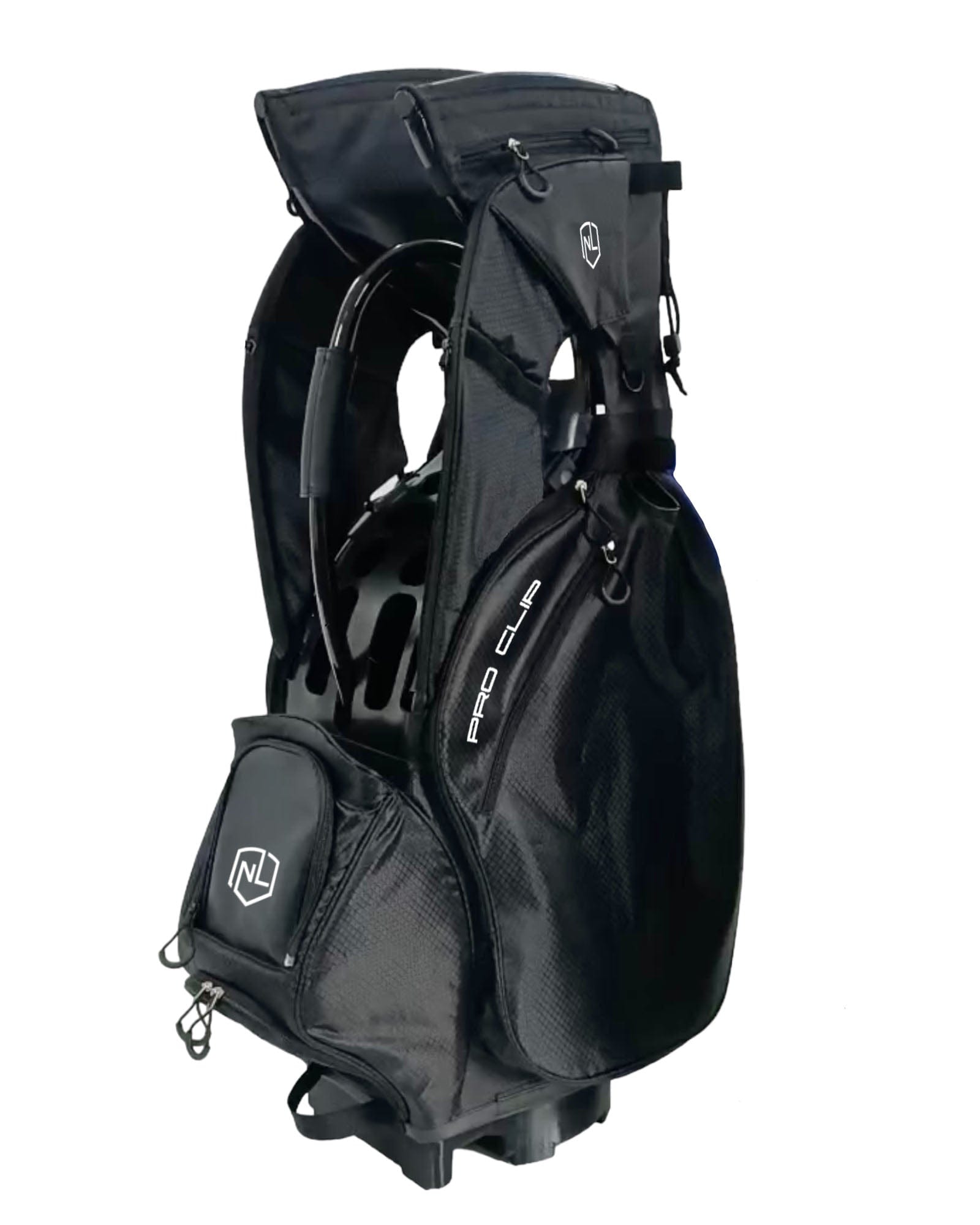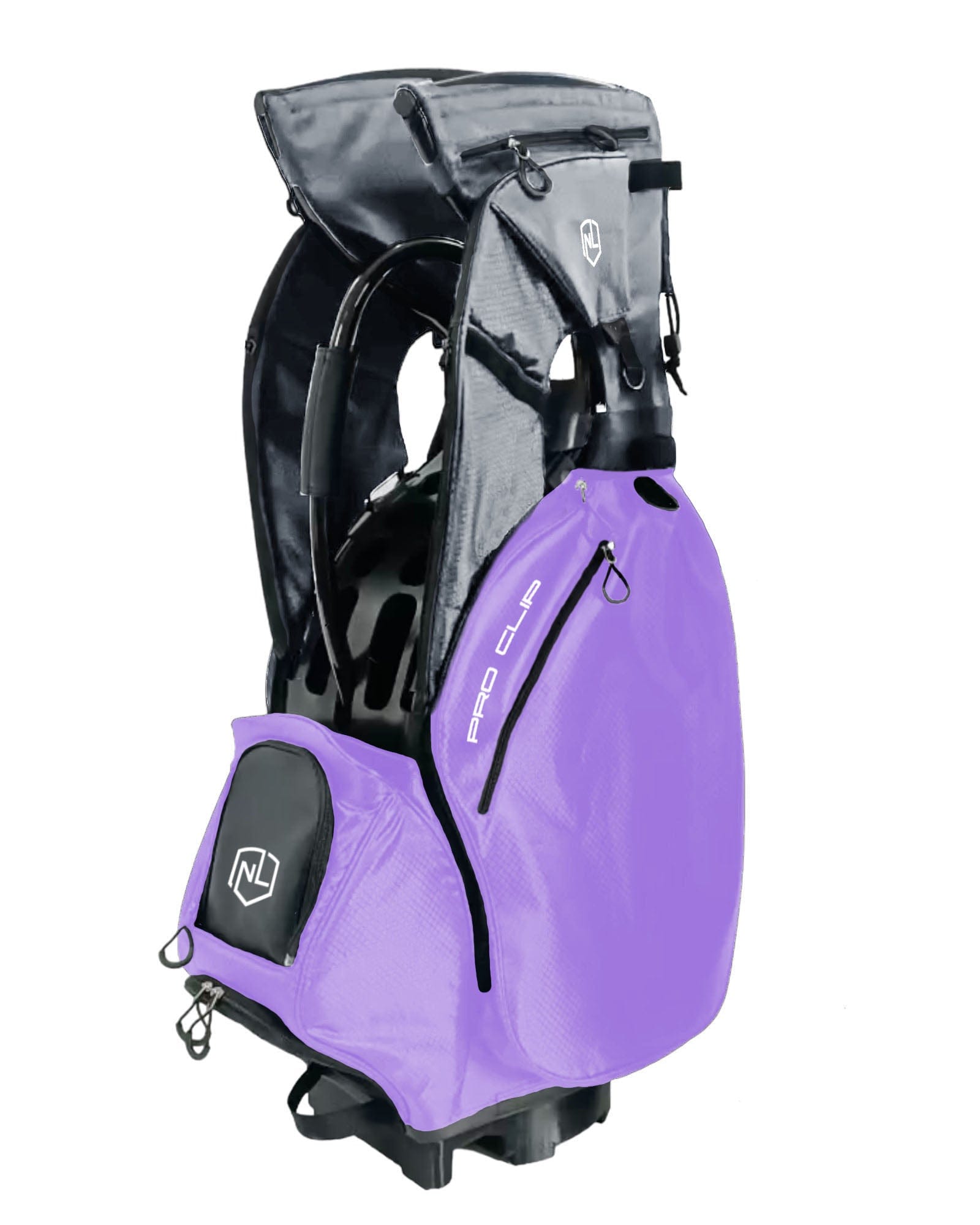 PRO CLIP - ExoSkin Only
Regular price
$164.99 USD
Regular price
Sale price
$164.99 USD
Unit price
per
Sale
Sold out
Share
View full details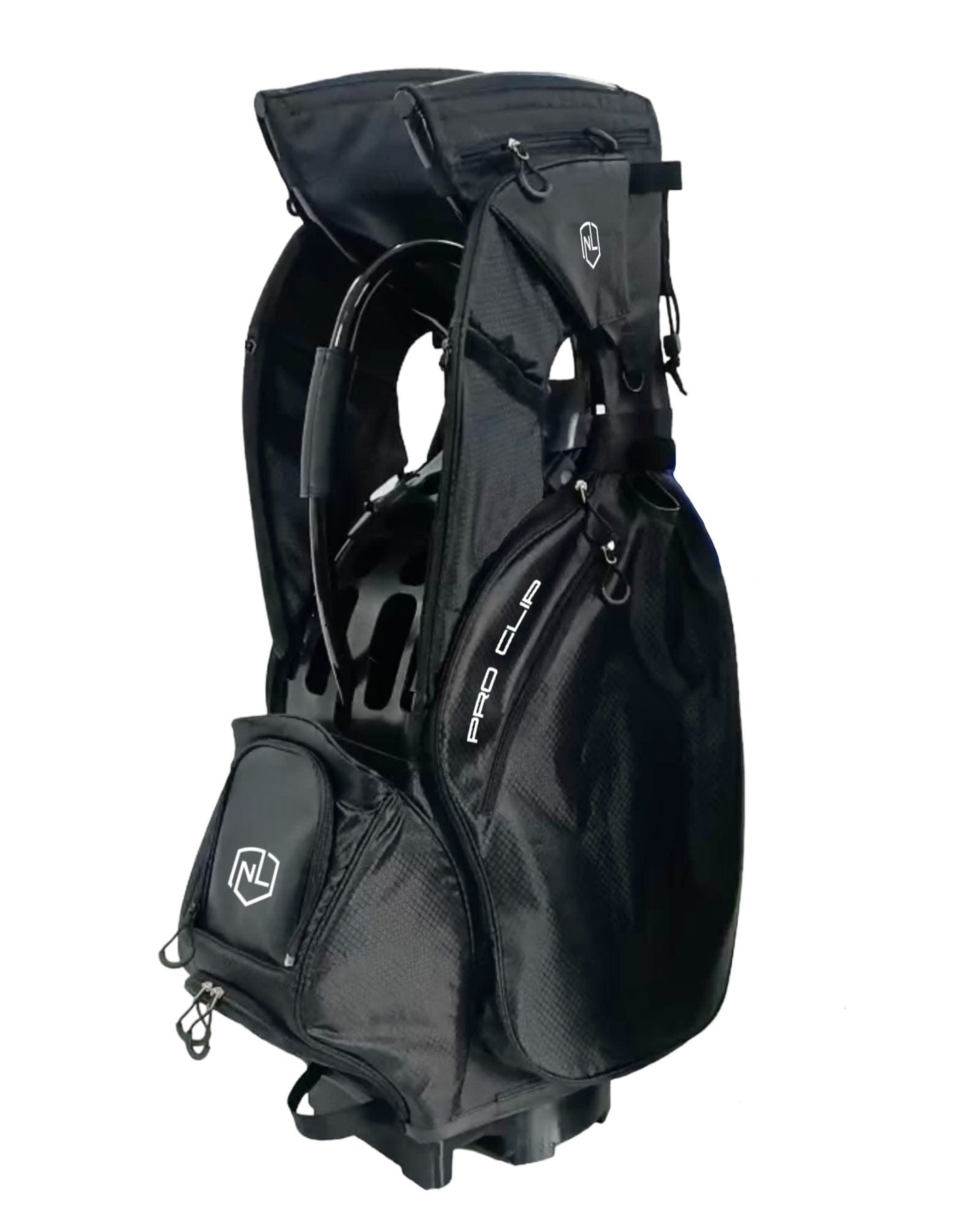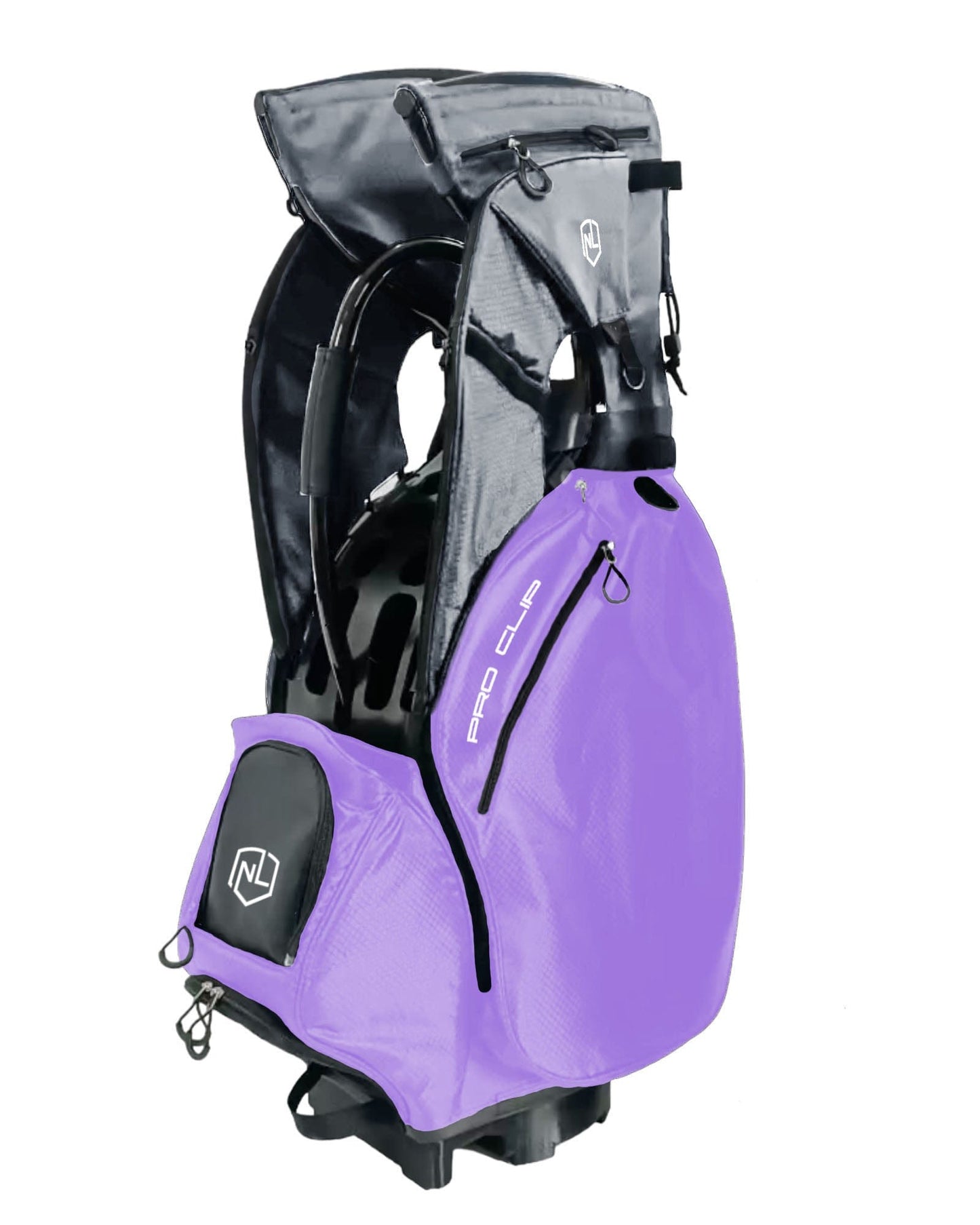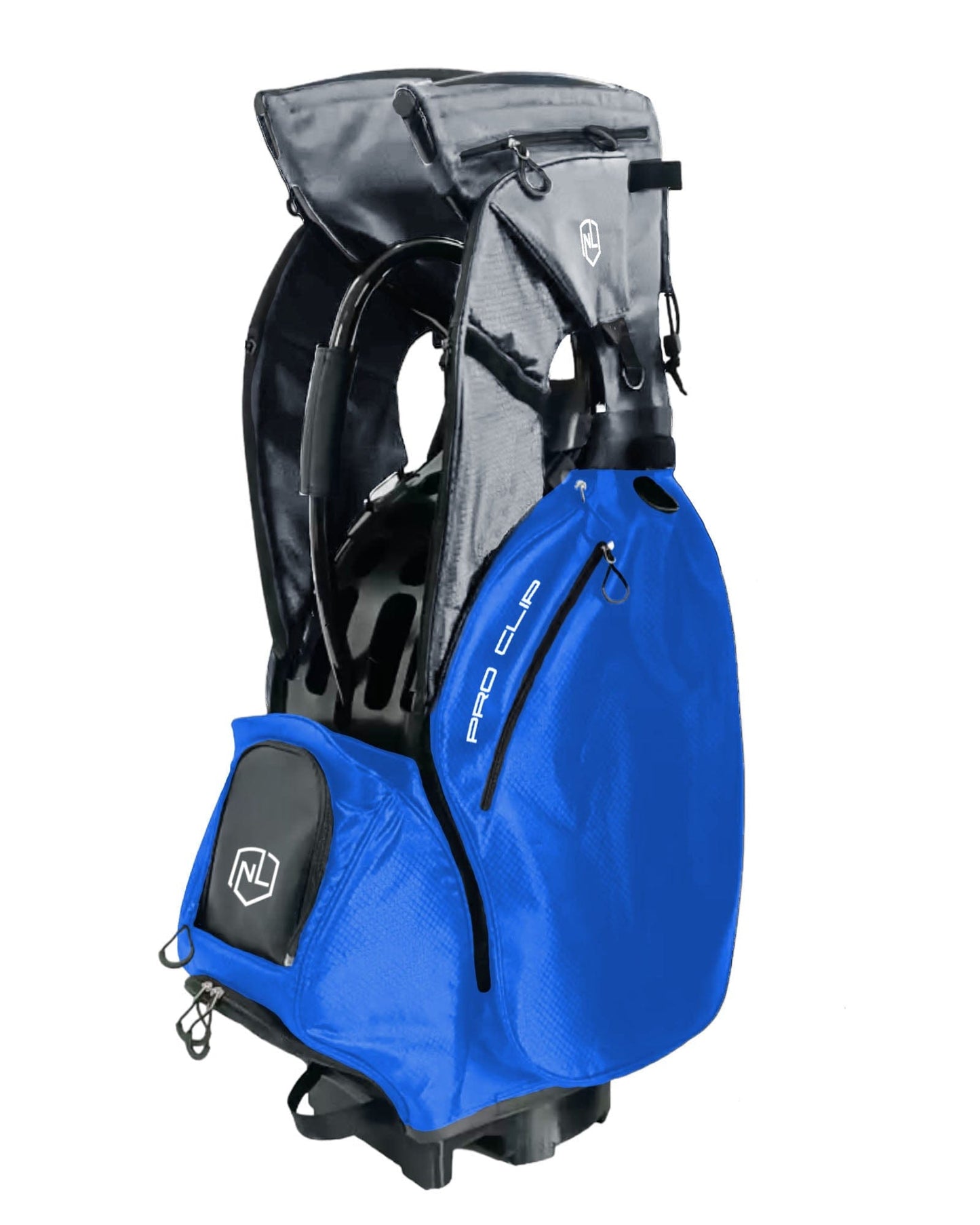 Specialty ExoSkins (coming soon)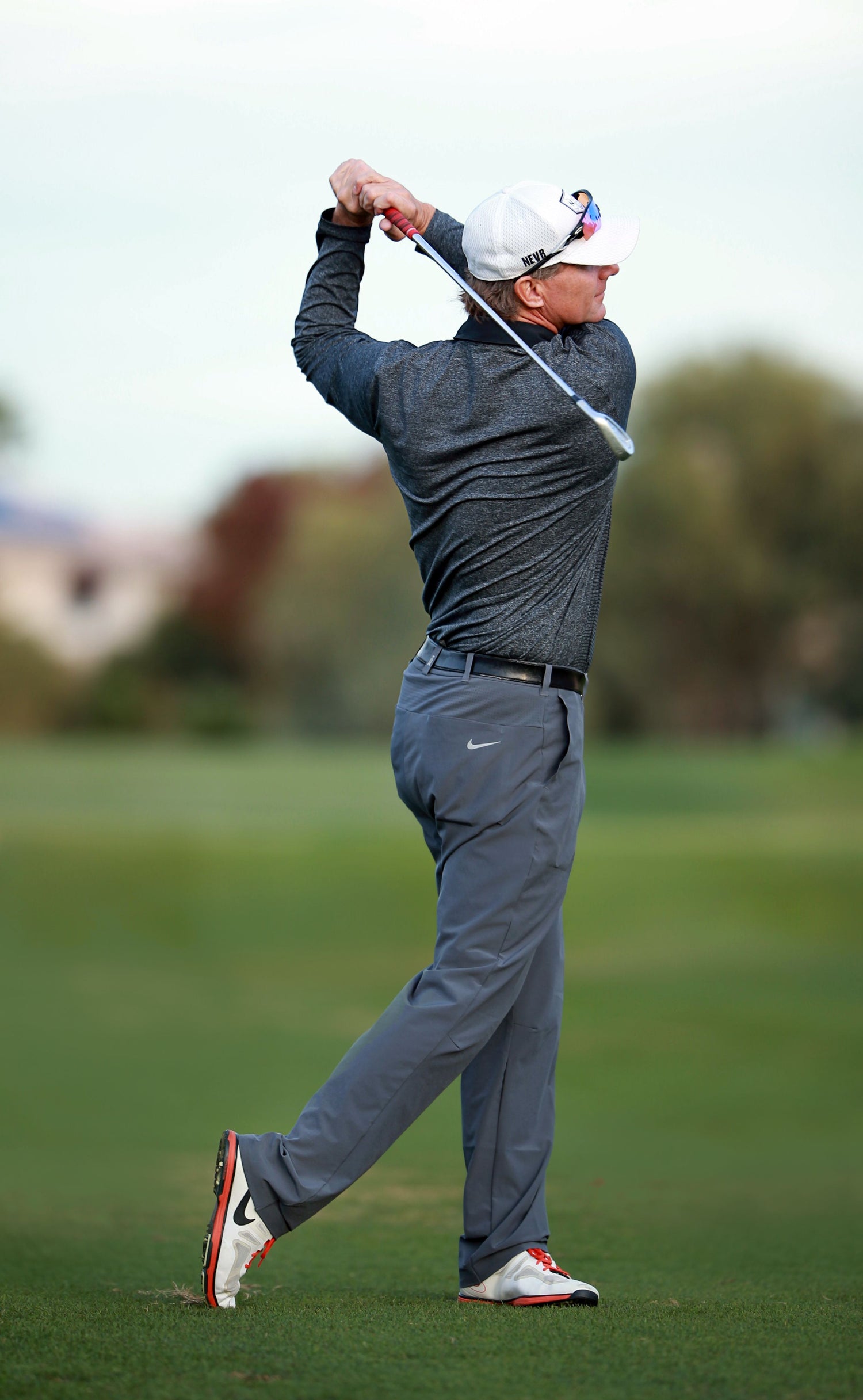 Meet The Inventor
Like you, I was often frustrated trying to find the right club and constantly having to dig through the club clutter in a traditional bag.  Even worse, that annoying sensation of hearing your clubs clanking in the back of a cart.  I hated leaving (or possibly losing) a club behind and not knowing until I played the next hole or finished the round.  And lastly, when playing as a professional, I lost my focus sometimes waiting for my caddy to find the right club.
That's why I created the NEVR LOOZ PRO CLIP golf bag. Obviously, it's NOT just another old school golf bag. I designed a bag that will secure, organize, and most importantly, protect your investment - your clubs - from the club head all the way to the grip. A bag that allows you to customize the clips to fit your set, even if you have extra hybrids. A bag that has the perfect shape, size, and location of our 18 pockets. Ok, I admit it, I'm a perfectionist (and a civil engineer) so every idea and design element is thought out to the Nth degree!
I hope you enjoy the fruits of my labor, which over years of development, has been a labor of love. And there's more coming soon...stay tuned!
And lastly, a huge thanks to our many NEVR LOOZ NATION customers from all over the world who have supported us from the very beginning...we really appreciate it!
R.J. Weinmeier